​​The recent announcement of 'Flag Collection Drive' by the Ministry of Culture, Government of India is appreciable. Indians, who
got Tiranga home this year, are being requested to respectfully hand it back to any nearest Indian Oil petrol pump. Since 'Har Ghar Tiranga' was a national campaign by the Government of India, this initiative is thoughtful.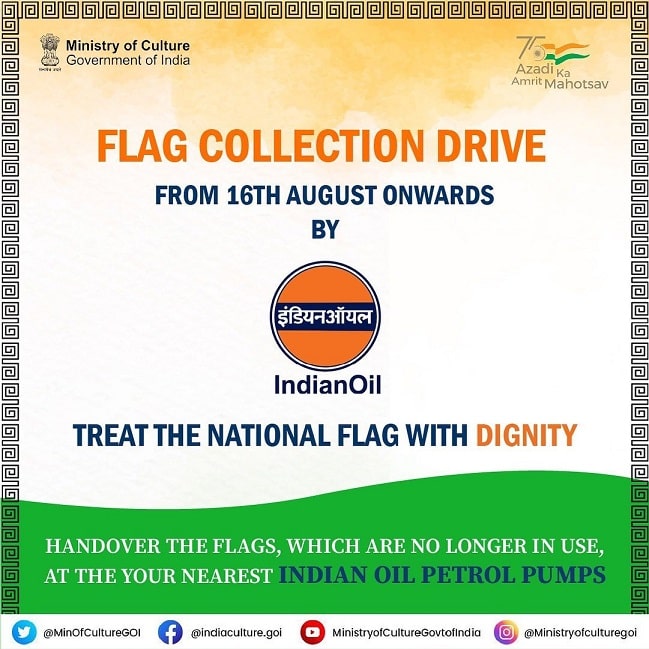 But, am still wondering why flags were not distributed and Indians had to buy them. My mother pointed this out last week and said that every family or a locality could have been given one Tiranga.
But, isn't it strange that something as pious as a Tiranga was expected to be bought by the public. Of course, this isn't the first time that Tiranga was being sold. It is sold every year at every second shop but this year, it was a national campaign by the Indian government. And, if the government is expecting us to raise Tiranga at our residences then the responsibility of us having one should also rest with it, shouldn't it?
Also, there was a news of mandatory deduction from salaries of Railway employees doing rounds. Why this forced patriotism? I can give a decent competition to anyone in high praising our motherland because we have organically loved her since our childhood and nobody had to be told to be patriotic but even I wouldn't like to be forced to a level where a monetary deduction is being made without my say in it.
Let's talk basic. Why was a Tiranga bought or sold anyway in first place during an on-going 'Har Ghar Tiranga' national campaign by GOI? That too, at whatever desired price by anyone and everyone, not even under some centralized system. Isn't putting a price tag on our Tiranga an insult?
It's a good effort to preserve its sanctity by initiating a collection drive but just to think of it, it was never theirs to be to given to them, we bought it. Actually, Tiranga toh sabka hai. Par agar sabka hai aur hota toh sabko diya jaata na… (In spirit, everyone has an equal right on their flag, but if it was truly theirs, then they would have been given.)
Of course, people can and should hand over the Tiranga as responsible citizens if they cannot respectfully handle it for the rest of the year.