Creative brains, veterans and leaders at Advertising Agencies Association of India and The Advertising Club have invited the Indian advertising industry to do its bit for women this summer of 2017.
In an initiative that rises up to the growing need to address women-centric issues in the country, AAAI and TAC, together, have launched a contest that invites the creative know-hows to create a campaign that can shake the world on one of the most burning issues – 'Violence Against Women' and educate people on why it is important to respect women. The extraordinary body of work will be honoured at industry's biggest advertising festival – Goafest 2017.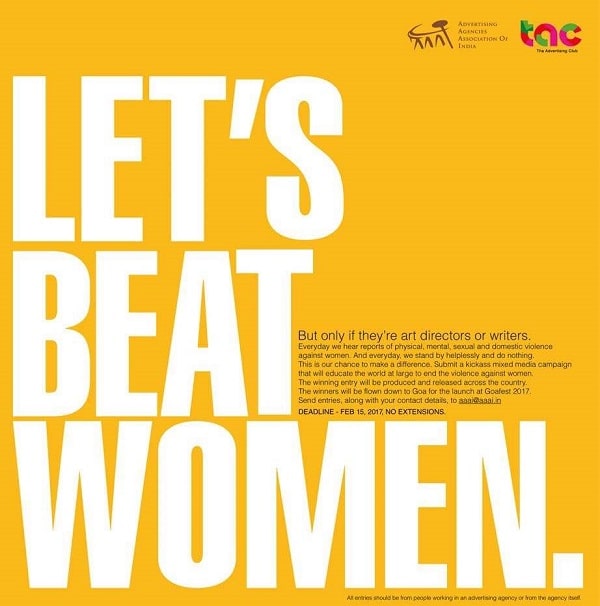 Raj Nayak, president of the Advertising Club, said, "From governments to Fortune 500 companies, everybody entrusts us to communicate their agenda to the larger public. It is time to take our combined learnings and experience to devise a campaign that is in the interests of this larger public."
TAC is running a national search for a multi-media campaign that aims to mitigate violence against women. "I am confident that, as one, our industry will rise to pool in the highly creative resources at our disposal, to come up with a highly creative and effective communication campaign," Nayak added.
Nakul Chopra, president, AAAI added that violence against women is an issue that concerns each and every one. "As an industry we have the finest creative minds and strongest media linkages that are at the core of a high voltage communication effort."
Entries can be submitted at aaai@aaai.in and the deadline is February 15, 2017. An elite jury will judge the entries and the winning work would be produced as a multimedia campaign and released ceremoniously on April 7 at the Goafest.