With demonetization hogging the limelight, there are a very few industries in India that can claim to be breathing relief. The business of weddings has surely not found its place in that list.
But if there's one name that was unknowingly destined to eventually find relevance with the Anushka Sharma's dialogue "Recession ho ya inflation…shaadiyan toh hoti rahengi…" from the movie Band Baajaa Baaraat, then it is ShaadiSaga.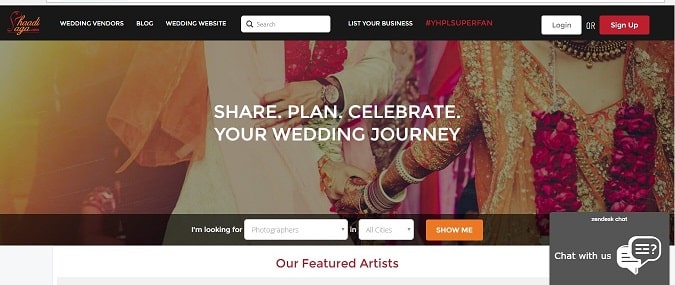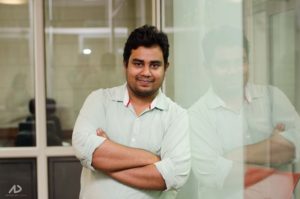 Just like many Indian startups, ShaadiSaga too happens to be a product of two ex-IITians.
Both Himanshu Kapsime and Manish Garg are Engineers from IIT Delhi who co-founded ShaadiSaga, an online wedding platform, in 2014 and since then their venture has helped 3,000 couples, Yuvraj Singh and Hazel Keech being their first celebrity clients.
Himanshu is responsible for technology, product management and providing overall leadership in the company while Manish takes care of for overall business strategy from marketing to vendor acquisition.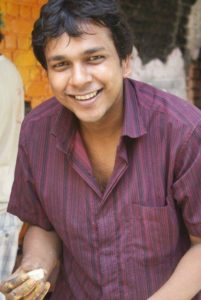 But how did they bag the starry wedding deal as early as this?
"After knowing about the wedding, we approached them with a plan just four months before through a common connection. They really were excited when they get to know the concept of ShaadiSaga and how we were enabling couples to plan their wedding online. Yuvraj has always been a champion of new ideas and whole Indian startups scene at large. So he was supportive from the beginning", reveals Kapsime.
When it comes to a wedding of celebrities, the whole scheme of things are grander and on a large scale. The planning at Singh household began nine months before the marriage but the ShaadiSaga team got involved only four months before the wedding.
The duo, obviously, had a very little time to arrange everything as desired by the celebrity couple. Garg shares, "It was a significant challenge because there were so many variables and very little time. But everything turned out great. We arranged Photography, Decoration and Transport and were involved in the managing the chaos during the execution of events."
India spends around $40 billion on weddings in a year. The online wedding industry is still at a nascent stage and according to Kapsime & Garg, the category is in an early rapid growth phase.
In the times where e-commerce spoils one with choices, ShaadiSaga is a brand that acts as a one-stop online shop for the new-age couples who believe in the convenience of planning and execution. And this is exactly what works in their favour.
"Couples these days have a different idea of wedding than their parents did. Unlike how it has always happened in their family, they want to have it their way and not just leave it to others. Couples want their weddings to be a reflection of their personal preferences and taste rather than it being just for others. And that's where ShaadiSaga comes in", explains Garg.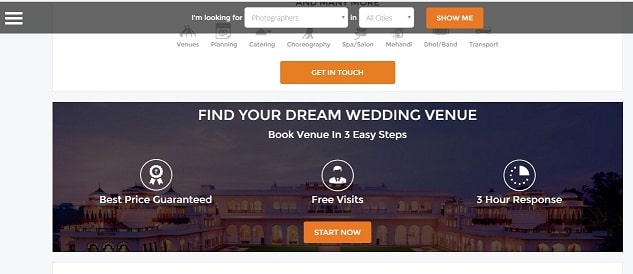 The company claims to have 6,000 vendors on its platform and charges a marketing fee from them. "We see around 300,000 unique visitors and million page views per month and revenues are doubling every two months."
The demonetization phase also hasn't had much impact on ShaadiSaga's business, thanks to the Yuvi-Hazel deal.
"There has been around 15% fall in the number of weekly leads. This can be attributed to sudden uncertainty that loomed over wedding budgets that were planned before the demonetization declaration. However, we have seen highest numbers for our business in last two weeks due to Yuvraj Singh as we provided our wedding services to him. But that would be specific to us and not the industry."
While the crash-crunch has had an immediate and most serious impact on the wedding industry, the duo senses positive sentiment in the long-term business prospect. Their belief is that "more and more people are turning online for wedding planning because of its convenience, cost effectiveness and depth of options. Now any remaining incentive to go offline has also been removed with the increasing restriction and decrease supply in usage of cash. Online wedding planning becomes a simply better choice."
With wedding planning being one of the most unorganized categories in India, the ShaadiSaga team sure has a daunting task ahead.
"We aim to organize the inefficient and unstructured $40 billion wedding industry in India and to make hiring wedding services a stress-free affair. Our plan is to enable more than five lakh couples in planning their wedding online in the next three years."
Looks like, a celebrity client like that of Yuvraj Singh is what they needed to take off in that direction…