Swara Bhaskar has been majorly recognized in the Indian film industry for her supporting roles but in real life, she appears to be a person who leads from the front. At a well thought-out event like Knowledge Factory, where changemakers and leaders from different walks of life spoke at various topics that concern the society at large, she articulated a session beyond anyone's imagination – 'Romancing the Constitution' and did it brilliantly so.
"Knowledge is a hugely powerful tool. Knowledge is not just about acquiring and knowing facts but it also gives one the ability to analyse, think and critically question them. It will get you money, eventually", she tells GW.
Bhaskar's on-screen performances have always stood out. From 'Tanu Weds Manu' to 'Nil Battey Sannata' to now 'Anaarkali of Aarah', Swara has come a long way and dealt with the "madness that Bollywood is."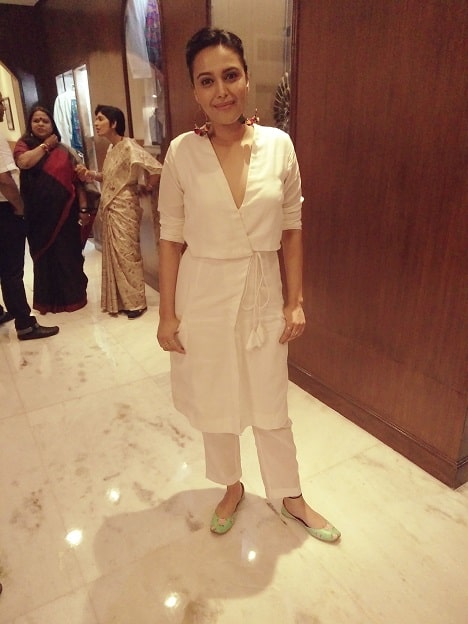 But it is her choice to be aware and knowledgeable that has helped her take tough decisions in life and speaking at an event such as KF makes sense for her.  "As a professional in the film industry, knowledge affects my choice of roles because I am then very careful in the kind of roles I pick up. I have a certain kind of views and awareness and as a person it helps me deal with the madness that is Bollywood! And then you always have a choice to say No and I mean that in every context, whether its work or life but only if you are ready to face the consequences. It's about creating the balance with the amount of knowledge & awareness one has", says the actress.
While as a woman in an industry that is touted as tough to tame, Bhaskar decides to stay strong and uncompromising and isn't someone who will make unaware choices.
"As a woman, knowledge makes me aware, confident and helps me realize the inequalities women have faced for centuries are wrong, should not be supported and can be fought intellectually, legally and by social practices. Not just for women, knowledge is powerful for Dalits, Blacks and oppressed classes around the world as it empowers all to pick up a fight, vision and create a better future."
Bhaskar was a surprise package at Knowledge Factory. Her profession usually draws mindsets that don't consider Bollywood actresses as ones who can speak mind of their own. But, she steamrolled all of it and how!
Apart from Bhaskar, there were quite a few eminent leaders and successful names that adorned the unique platform of Knowledge Factory and this is what they had to say –
ABHIJIT BHADURI, Author & HR Specialist
On money v/s knowledge…
 "Lakshmi and Saraswati do not stay together. It's difficult for Saraswati to reside where Lakshmi is already residing. But wherever Saraswati enters, Lakshmi follows. Knowledge is over and above money."
On power of knowledge…
"All the people who are doing something interesting in their lives, whom we aspire to be like, all are role models who are specialized in their field of knowledge. You admire Gulzar sahib's poetry because his level of knowledge about poetry is deeper than what an average person knows. That's why it is so aspirational, that's why it is so interesting and that's what makes his so unique. Expertise is always aspirational."
BHARTI CHATURVEDI, Environmentalist

On role knowledge plays…
"Knowledge for me is confidence to get done what you need to get done. It is fundamental when it comes to the Environment because you need to know the cause & effect and sometimes it isn't really clear. It is not only about how to protect the environment but also how to do it effectively. Most of the times, I believe, knowledge is not necessarily available exclusively outside of you. Knowledge creation is very fundamental for the protection of the environment."
MADHAVAN NARAYANAN, Senior Journalist
On idea behind Knowledge Factory…
"The whole purpose is that people are getting educated in skills that give them jobs but education is not about skills, it is about learning to be a better citizen, leader, which requires more than skills. For instance, you may be voting but you may not know what your constitution is, you may be driving a car but may not know what it is doing to city's air, you may be writing softwares but may not know what's the future of it because of changes in technology… So such issues need to be understood deeper and wider and Knowledge Factory's aim is to not just do that but also make it less boring and more stimulating & interactive."
AMITH PRABHU, Public Relations Specialist
On putting KFF together…
"This is Madhavan Narayanan's brainchild. Madhavan and I have been longing to put this together for last two years. We decided to get Meena Vaidyanathan into it six months back. Madhavan had the editorial mind to put the content together, Meena helped bring us the line-up of the speakers and I essentially worked on sponsors."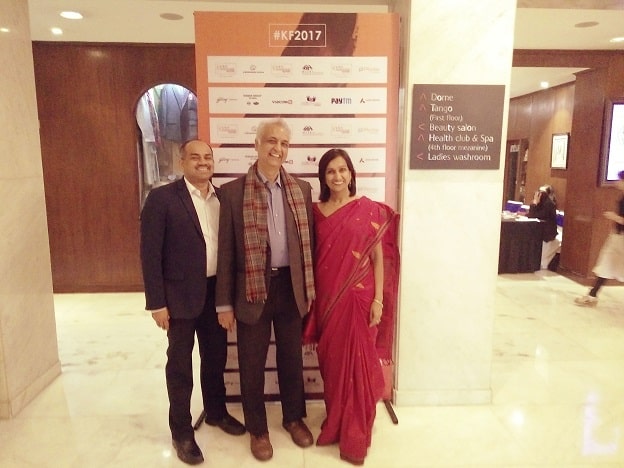 On cutting the clutter…
"There are a lot of events/seminars happening today that claim to be knowledge-sharing sessions but in reality there are just networking events. We decided to bring speakers from different walks of life as well as audience from different walks of life so that they come, learn and gain knowledge. We haven't seen a conference in India like this from a long time. We are addressing the issues of the society at large."
KF Theme & Agenda