It won't be wrong if you call Priyank the original start-up boy of the Indian restaurant industry from the 90s. He may not be someone who had an inclination towards studies but was sharp enough to have a plan when he was just 19. His concepts Lazeez Affaire (restaurant) and RPM (bar) were an instant hit in the Capital and trendsetters to the extent of launching an ambitious teenager's larger-than-life dreams. Today, Priyank, 37, is on a rampage to change the way metropolitan cities party and serve up the cocktail of his teen-like spunk, hard work and creativity. I caught up with him #InTheLounge to know what makes him a blue-eyed boy of the Indian restaurant scene and how is he taking his signature style across geographies. Excerpts:
Firstly, why do I hear so much about Priyank Sukhija?
(Smiles) Last 4-5 years have been great even without doing PR. I have just started with PR officially. I thought it wasn't something we needed but now I realize it's inevitable. It gives me an edge since I do multiple brands.
We are sitting at Lazeez Affaire today, a name you started your journey with way back in 1999. Does it feel like a full circle?
I feel… (thinks hard) I mean, yes the attachment with this brand is more than any other for sure. And, I think Lazeez Affaire re-opening was long overdue. It's very refreshing to open an Indian restaurant after a long time. I was very slow in the first 7-9 years and opened just a couple of restaurants. Last 5-6 years have been crazy. I want to be aggressive for next 10-15 years. Though, I don't see myself taking retirement. There were quite a few restaurants that didn't work and now am very selective about my procedure. There's a constant evolution almost every year. I learn from my mistakes and develop as a person. I feel whatever I create has to be a reflection of my personality.
Why do you say refreshing? It is because you think you've been doing similar kind of work off lately…
Not similar work but similar target audience.
Is it plain passion or because it is churning huge bucks?
(Without giving a second thought) Passion. It's totally passion! It's been long that I worked for money. I really love what I do. I get involved at a grass-root level. From designing to menu planning, no matter which brand am doing, I really get attached to it. For me, launching a restaurant is like giving birth to a baby.
You are dyslexic, didn't want to study further and yet today you are a name to recon with in the food & beverage industry. What made you think you'll hit a bull's eye in this category?
Well, you start with personal experiences. I like to party. At 19, I opened my first restaurant Lazeez Affaire because I was a foodie. I was in knowledge that Indian restaurants do well and they're the safest bet. In the year 2000, I thought of doing a small high-energy place, something unheard that that point of time. There was no place that was a hybrid of a bar and DJ. Only TGIF had somewhat a similar concept then. It prompted me to open RPM. During that time I had gone on a holiday to London, checked couple of bars and wondered, "Boss! Yeh India mein kyun nahi chalega…" (Why will it not work in India?). Today RPM is still one of the longest running bars in India.
I am curious while RPM is still in existence, it is not a part of your company portfolio…
It doesn't make any money but I have an emotional connect with it (smiles). I lose money in RPM almost on monthly basis and it has been like that for the last five years. I will never be able to get over what RPM has done for me in my life. The whole journey started with RPM. I generated crazy amount of money from it in the first 10 years. It was a cult and a lot of people had their first drinks there.
Success came very early to you. What kept you sane?
My father has always been a great support, my friends and a lot of self-learning. But, insanity does come when you take loan from your father, your first choice of business (Lazeez Affaire) is a super hit, buy a BMW with your own money and all of it at the age of 20. I had the who's who of New Delhi call me up to enter RPM during houseful nights. Insanity does hit you and you start to feel invincible.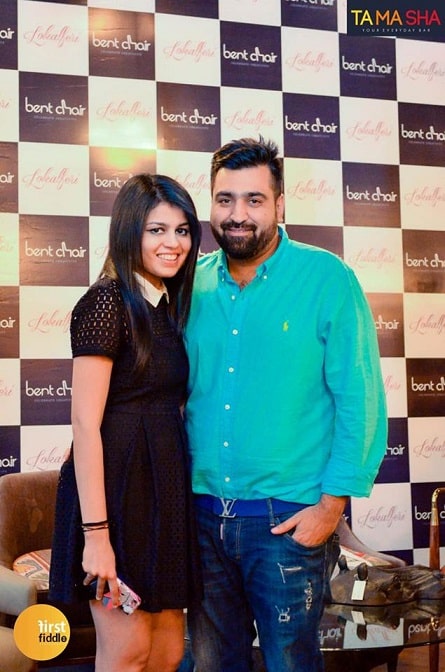 How did you meet your fiancée Natasha (Jain)? What did you find most attractive about her?
Natasha is a topper from Stanford University. All her batch mates are placed in top companies of the world like Google, Amazon etc. but she did not work even for a day and came back to India & started her own venture – Ruplee. It did not work and now she's building 'Bent Chair'. One of our common friends introduced us for work. I am someone who may be critical of our government & its policies but still a patriot. Apart from other things, her decision to return to India and entrepreneurial appetite really impressed me.
It's amazing! A decision to choose India over foreign land attracted you in a woman…
Ya! Apart from a lot of other things, this got me really attracted, actually! I'm really patriotic. Nothing you see here (Lazeez Affaire) is made in China. I do not like people who study abroad, become doctors, engineers and their sole aim to make money. There's lot of brain drain. It's my personal opinion that we should give more and more to our country. It was impressive of Natasha, only child to a successful business family, to start her own company.
Does her top notch education, your meetings with HNIs, investors, undermine your confidence as a college dropout?
I have made up for it. Firstly, I am blessed with extreme creativity and I can really get into the soul of anything that I want to build as a restaurateur. Secondly, I might not be educated but I'm well-read and aware, probably more aware than a lot many educated people out there. And lastly, I have a good team in place. Whenever there's an investor meet, my CFOs, CEOs handle it all. There was never any dearth of confidence in me.
What's on the cards for First Fiddle Restaurants?
In the next 6-8 months, I have 'JLWA' opening up in Delhi, Mumbai, Pune, Chennai. I have also given its franchise to a friend in Toronto. Soon there will be five more brands in Mumbai.
Tamasha, Fork You, Fork You Too, you have some interesting names there, how do you zero down on the names of your restaurants, tell me the exact process?
They just come up! I believe the names should be phonetic, unforgettable, unpretentious, fun and quirky at the same time.
Do you think Hospitality industry is looked down upon?
Yes. There are people who don't realize the kind of employment, tourism, lifestyle I am generating. Some of my relatives don't like the fact that I serve alcohol in my restaurants. Natasha is a Jain and some of her relatives won't come to those of my restaurants that serve non vegetarian cuisines. The cities might have turned cosmopolitan but it will take time for people to grow out of the cultural barriers. You may have all the necessary licences to serve alcohol but some people continue to think of you as a criminal. Ismein Bollywood ka bahut badha hath hai… (Bollywood has a big influence in it) (both laugh).
What have you learnt from your downfalls?
It's important to be dedicated. I took my success for granted initially and went ahead with 3-4 restaurants that got shut in no time. People who see success in the first go should be very careful. I have seen people changing overnight as a result of their early success.
Do you think F&B industry spoils you as a person?
(Exclaims) Why F&B, every industry can spoil. If you let yourself stray, success can spoil you.
Do you get free time at all?
Yes. I watch movies, play video games, go out with friends, spend time with Natasha, my daughter. I don't work on Sundays.
You have a daughter?
Yes, remember I told you of the time success got into my head, it is when I went ahead with marriage too. I got married when I was 21 and divorced at 24. I was the youngest father of her batch. She stays with me and is in ninth standard now.
So you've always been "jo hoga dekha jayega" sorts… Also, looks like you're a committed person at heart…
I am an extremely committed person. It does backfire also at times. But sometimes it pays off really well. I invest myself in every work, ever relationship at a very emotional level. I play my part and then it doesn't matter if it pays me or not.
Are you spiritual?
I don't go to Temples or religious places but I'm God fearing and do good karma.
Are you someone who believes in pleasing people?
Sometimes I please people so much that they take the liberty to walk over me.
Do you take revenge then?
(Promptly) No, no, no! I don't have time for it. I hope God never gives me time to take revenge from anyone. If somebody does wrong in the professional scene, I stick to my formula of "let work speak for oneself." The industry is very bitchy!
Who do you envy in your industry?
Tell me who should I? I don't need to envy anyone; numbers are for everyone to see. Presently, I don't think there's anyone doing better than me. From crockery to furniture to sound, I do a lot of detailing in my restaurants which nobody does.
Bars, pubs are accused of having same kind of food. Will you ever experiment beyond Dal Makhni & Butter Chicken?
Sadly, no! Dal Makhni & Butter Chicken sell and that's the way it is. But, things seem to be changing. Mumbai market has changed. Nachos, crispy honey chilly potatoes, paneer tikka, chicken tikka, chicken wings, chicken pizza are the top selling items across all my restaurants in Delhi. People do go out to eat cuisines but not at bar-centric restaurants. People don't recall my restaurants for food and I'm okay about it because I'm playing on my USP and it is selling! People tend to stereotype you.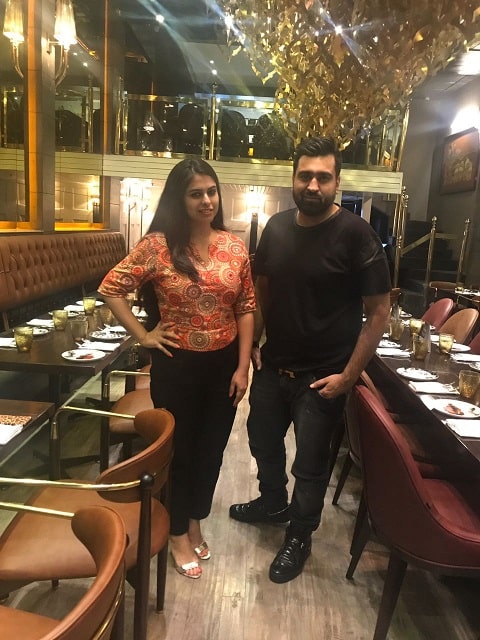 Don't you feel stuck then?
I do in Delhi. I am changing the perception in Mumbai. But it is like Bollywood. Some roles are meant for only some people. And I have come to a conclusion that I am not Sanjay Leela Bhansali, I am Rohit Shetty and that's what I will do (both laugh). It's my simple logic!
Which are the restaurants you like to go to?
I go out to experiment with food. 'Akira Back' (JW Marriott) is one of my favourite restaurants. I like 'Puck' and 'Honk' at The Pullman and I love 'La Piazza' (Hyatt Regency), Megu (The Leela Palace). You'll find me at these places a lot.
One dish you don't get tired of…
Dimsums. I have to have dimsums in one of the three meals. If I don't have dimsums for two consecutive days, I start missing it.
Moment you feel it's all worth it…
When I see crazy footfalls and people having a gala time, it gives me a lot of satisfaction. The fact I own some of the marquee properties in the city at prime locations is also something that gives me a high. I have contributed to the landmarks of the city and it feels amazing. I mean, this impact will be there much after I am gone! My holidays are worth-it moments too! I splurge, shop what I want to, stay at best places and go unreachable.
You have everything, do you believe in giving?
Yes, my father helps in the marriages of the underprivileged. He not just donates but personally helps in the construction of temples. Presently, I am in talks to channelize our left-over food to the underprivileged. We also support institutions like CRY, LIFE CARE from time to time.
Interview originally published in The CEO Magazine.