December arrived with the news of MultiFit opening its first branch in Delhi NCR. I had heard about its unique positioning in the fitness market but as much as the fitness crazy in me wanted to be a part of its launch, the idea to travel all the way to Gurgaon on a Sunday morning didn't make me excited enough.
A date with Gurugram (don't think there's anyone who isn't in a denial that the Government of Haryana wanted to change the name in first place and then, to this. Oh boy!) is never on my priority list for the obvious reasons. Traffic – being one and the other is – unpredictability. There's something about its roads and ways, I find them changed almost every time I half-heartedly agree to find myself among its visitors.
Since it wasn't quite a joyride to be driven all the way to Sohna Road, my selfies turned saviours, I tell ya! And this time I was more excited to take one as I wore my brand new pair of glasses.
I don't wear spectacles (Yes! I have hazel eyes and I don't wear lenses – something I repeat to those who doubt God's artistic senses ;)) but I have always loved to try out new looks. This time, however, I wasn't sure as I had never imagined hiding my eyes behind glasses. But the day I discovered this beautiful pair that complimented my face & skin tone at Winkk, I immediately picked them up (if you want it too, go here). The colours turned out to be exactly the way shown in the pictures and the fit was perfect. I just loved them! I also quite liked the way it was delivered –
The long drive was finally over and while walking towards the newly-opened Multifit, I slowly convinced myself about the decision to try out the nerdy look and that it wasn't bad after all.
As I entered the gym, I also realized that one should actually never say a 'No' to anything that doesn't feel familiar. If I reluctantly hadn't agreed to take the trouble to visit Sohna Road on a Sunday morning, I'd have missed something as awesome as witnessing a boxing ring in a gym – something new and unusual.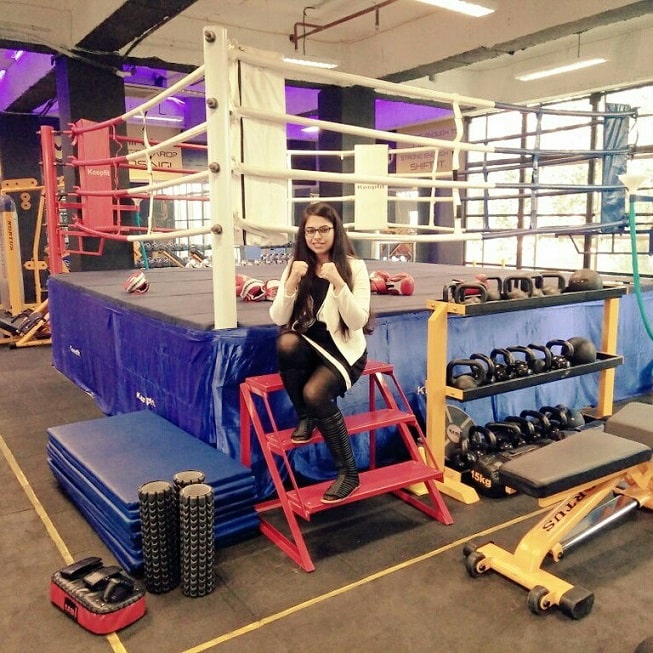 I also boxed with one of the celebrity trainers there who had a background of training Bollywood stars like Vivek Oberoi. My boxing session with him was so much fun.
Check out this video in which I wore the bulky gloves and showed off my swift moves. Don't miss noticing the perfect fit of my eyewear and how it survived my strong sporty movements.
And just what the fitness doctors had ordered, we both posed for a post-boxing-session picture. (Woof, sometimes I think I deserve an Oscar in getting clicked, no?)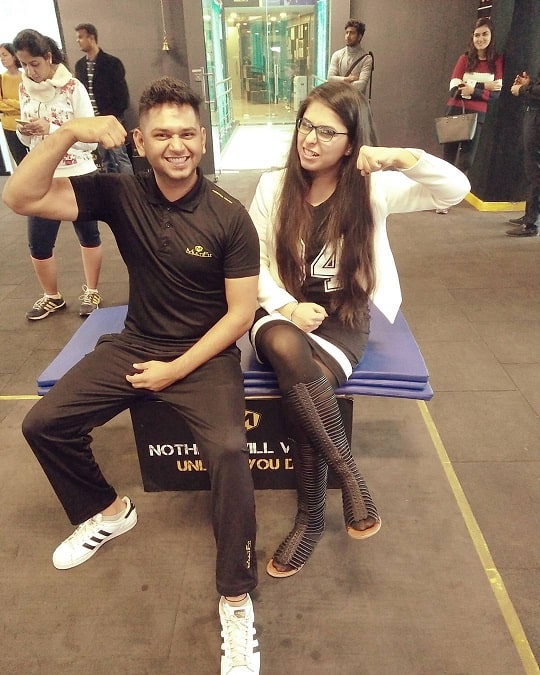 What do you think about my entire look? I think, my semi-sporty look would have been incomplete if I didn't opt for the uber-chic Winkk glasses – something I thought I will give a miss over apprehensions of looking weird.
But, what a day it was! Super fun!!
How difficult it is to be happy?! I think all we have to do is choose to accept the change and embrace the new. It is that easy, really. : )