November 14, 2020 – date that changed our lives forever.
We weren't upbeat as we should have been on a Diwali day. Somehow, for the first time, my mother wasn't excited about celebrating Diwali or doing the regular preparations that we often did before and during the festival.
I wasn't liking it, honestly. I felt something terribly missing this time around. Well, a part of that uncomfortable vibe sprouted from the fact that my father was bed ridden and not in his senses to acknowledge anything beyond his own deteriorated state of health or may be not even that.
The aura of the house hadn't been positive for a while. Dad was ailing from a long time. He was hospitalized in July and underwent corona tests before admission too. We were tense about the result and thankfully, it was negative. It wasn't that we weren't used to hospital rounds in all these 13 years of his health issues. It is just that this was the first time I managed everything on my own because of the covid scare. I stopped my mother from coming to the hospital, collected all the able strength alone and took him to the hospital in the ambulance.
After spending 10 days in the hospital, doctors discharged him, us. I say 'us' for reasons best known to those who have underwent a journey of its own while dealing with hospitals. Every year, it wasn't just my father undergoing limitless pain and despair but it was also me, my mother and Lucky Kuku (our dogs) going through the same ordeal, mentally.
Seldom we knew it will be the last in that sense for all of us.
On Diwali day, as it clocked 6 pm. I took Lucky Kuku for an early evening walk like I do every year to help them dodge the terribly unbearable noise pollution in vain. As I returned, my mother called me hurriedly in a rather unusual tone and before I could climb up the stairs, my heart had already jumped off my chest and reached her before I could.
With an extremely worried yet soft tone, she asked me to check on dad. She said that he doesn't seem to be moving at all. I checked his breath. He laid still. His face seemed to have frozen and with that our lives froze in front of us.
He was gone. Gone in his sleep. It was unusual of his personality that we had seen in these last few months. He was troubled in and out for days and nights at a stretch. He wasn't at peace at all. And there he laid in absolute silence. We shook him but he didn't move. His last words to mom were, "paani…" He had asked for water and the same morning, Vinay, his attendant had come and given him bath and shave despite his reluctance, as if he was being prepared for the final journey.
Having gone to few funerals in my family and of closed ones, I was familiar with the feeling. But, when you lose someone as close as your father and see him not moving anymore, the same feeling dissolves in the numbness of emotions hitting your mind and soul from all the sides. You stop to feel and feel too much at the same time. At least, that's what happened with me.
I think I wanted to cry but couldn't. But something as easy as that in such a moment didn't happen until I picked him up from the bed and laid him on the floor with the help of the attendant and a kind neighbour – a woman who didn't shy away from touching my father in the troubled times.
My father wasn't suffering from any major life-threatening disease. All his body parts were in working condition before he breathed his last. He sustained severe diabetes condition for over 30 years and popped in pills every day with a smiling face as much as I remember till my teens but off lately, he was grudgingly annoyed with God for having given him troubles despite he being a staunch followed of Guru Nanak Dev ji and having done seva (social service) for many years during his bachelorhood.
Strangely, his body had started to deteriorate and never improved after his last hospital visit. We tried a lot to change his medicines, get attendants to walk him in the house regularly but his unbreakable will power to deal with his health problems didn't seem to be helping this time. Because, he was tired. He was done. He was exhausted.
Childhood
My father, Pritam Pal Singh Hoon (P. S Hoon) born in Hoshiarpur, Punjab, was a very simple, docile boy once who hailed from a Sikh family and resided in Karol Bagh, New Delhi. He wasn't someone who was given a free hand on taking life or career decisions but as someone who turned solely responsible for his own life after deaths of his father and brothers, the youth in him never found a chance to flourish. In his own words, he was always taking care of people around him but seldom found anyone taking care of him.
He matured early and transformed into a rock at an age when kids are grudgingly dealing with the confusion of buying books or toys.
The Air Indian
My father started serving Air India in 1965 with 200 rupees as his monthly salary. He worked extremely hard to make a living without any support from his family.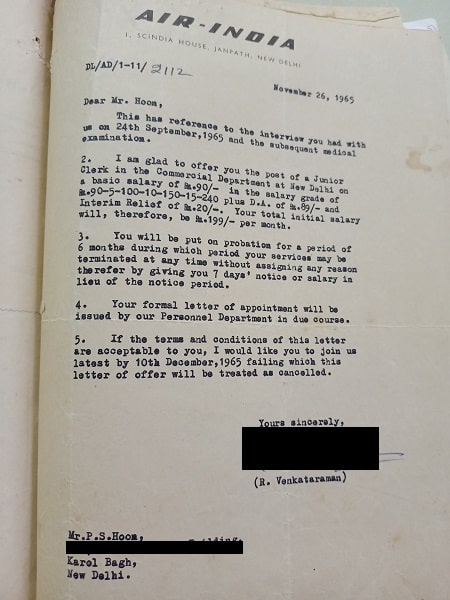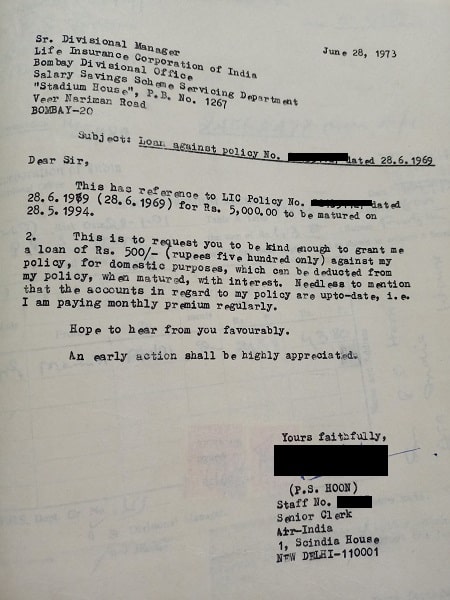 My father was an extremely dedicated man who eventually turned out to be the go-to man for his colleagues and juniors alike. I have discreet memories of us pampered as his wife and daughter whenever we flew from Indira Gandhi International Airport. The treatment wasn't just because of the post he held but more so for the kind of human being he was – honest, helping, soft-spoken and humble.
He is fondly remembered by his colleagues as a very important man of their careers. On his passing, I received calls and messages that boasted of his strong character and trustworthiness. It made my chest swell with pride and honestly, those flurry of good words were quite expected as we've heard of them all throughout our lives.
Us
My father married my mother in 1977 and they both dwelled at quite a few rented places in old Delhi. Soon they shifted to Air India colony in Vasant Vihar and with my birth, a new chapter added to their simplest lives.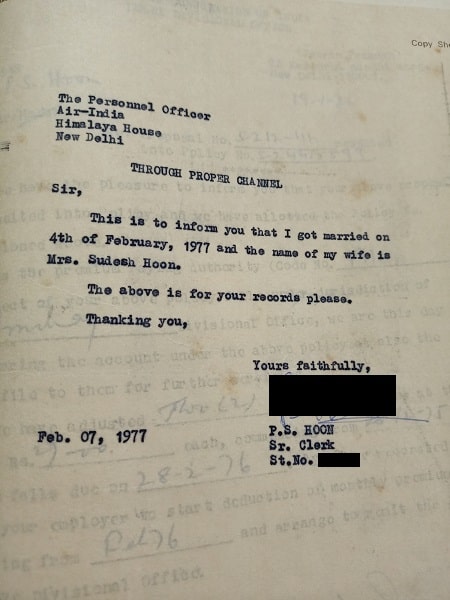 They were the most uncomplicated folks around in the colony who just focussed on their own lives, worked hard to make their both ends meet and raise their daughter with good education and values.
As much as I remember, as a kid, my father was my favourite out of the two. I loved him so much that I wanted him to be around always. I hated him going on office tours, used to excitedly jump and hug him on his arrivals.
My father used to take us to all the possible holiday destinations that he could afford during his tenure. Sometimes, the choices were a repetition as per the budget but there wasn't a single time he denied us a holiday abroad.
A quiet family man whose only mission was to keep us content and happy, my dad, never in his life, raised his hand on me or slapped me with any form of patriarchy. I was given every kind of freedom to live a life of my choice.
I will miss his deep silence and unusual patience that he showed in the toughest times of our lives. His greatness lied in his quiet resilience and mellowed comebacks that never demanded any praise or celebration. He was just as he was – keeping the show on – as if, that's all he knew all of his life.
It was Diwali when he left us forever. He laid still on the floor, in his last sleep as deep as not to be perturbed by the bursting crackers outside. He hated the sound of crackers. And there, for the first time, his deafening silence defeated the noisy crackers as we sat beside him for the entire night. They said it was auspicious for him to leave the world on Diwali day. The blast of that moment was too much for us to deny or agree.
Every Diwali, papa used to begin the pooja (prayer) by reading path (Sikhism holy book) and my mother followed with Hindu rituals and sung bhajans (holy songs). It would have been the first time dad would've skipped his ritual of reading path as he wasn't in his senses to get up from the bed and come for the pooja and before that could happen, he took away his pride. The Pooja never happened. The path never happened and now, it never will.
Next day, as he was being taken from home, his foot touched the Diwali decoration and it fell down. Two days ago, I had taken out white salwar suit from my wardrobe and despite not having worn, I didn't keep it back inside. Our neighbours, being Sardars, supported us throughout the rituals in the absence of my paternal family and presence of my maternal family.
Thank you Veerji & family, Vivek, Pooja, Prashant, Jaspreet, Basant for being there beside us at a time we needed the most. Promise, I will never forget.
Everything seemed planned. Everything seemed scripted.
I performed the last rites of my father. I asked my mother to stay home. I didn't want her to go through any kind of emotional trauma. I, alone, (though my relatives and family friends were around but I know that I was alone in that moment), stood at the cremation site, saw the dance of life and death with my eyes as the ultimate truth slapped my soul, breaking it down a number of times before I cremated the man who made me.
And as I bid the final goodbye to his human body, my last words to his soul were…
"Bye papa… Bye. Khush rehna hamesha… aapko finally dukhon se chhutkara mil gya… bhagwan karey ab kabhi bhi apko dard na ho… aap hamesha khush raho.." (Bye dad. Now you don't have to go through the endless pain anymore. May you always be happy and stay in peace.)
Thanks for everything, papa. You were such a gentleman and a good father (crying inconsolably as I write this…) that I wouldn't have had it any other way. Thanks for letting me become whatever, whoever I wanted to be. Thanks for being beside my mother and showing love, loyalty and commitment to her in your quietest demeanour and without being told so, ever. You subtly showed me your own definition of a superhero dad, nothing like what they show in movies.
Sorry, for the times I may have not been a good daughter or hurt you in anyway. I will think of you, pray for you till my last breath in this life and carry forward your name wherever I go with honour and pride, like I have always.
I love you, papa. I love you.