It is not a secret that the legacy of classical music in India is popular only amongst a certain community that makes an effort to follow the art because of its passion and association in some way or the other. It is unfortunate that this form of art, taking one's lifetime to hone and become a professional in, is never given the spotlight it is worthy of and rightly deserves.
Today, I am writing about Priyaankaa Mathur, who is an Indian Classical Vocalist in Mumbai. She carried the seeds of the art from her mother Mrs. Chhabi Rani Mathur – a classical vocalist and Priyaankaa's first Guru.
I have never met Priyaankaa. She happened to whatsapp me an invite of a classical music event. I am guessing my number must be in her media list. Without knowing who she was, I sent her an affirmation to write about the event. Later, I also checked with her if she's a PR person.
"No. I'm an artiste and performing."
I should have guessed that too. It is not surprising that a classical music performer had to turn her own Public Relations officer. It says a lot about the field of performance she belongs to, a category that is much-ignored, low-key and low-paid. It isn't Bollywood, after all. (not blaming one industry for the other, just stating a fact)
"My mother could not pursue her career but has lived her dream through me. She's the woman behind me. It has been almost 21 years, I have been learning formally from various eminent Gurus but before that she was my Guru and the reason why I began my journey", Priyaankaa shares with me.
Priyaankaa went on to learn from stalwarts like Ustad Aslam Hussain Khan of Hapur Khurja, Agra and Jaipur Atrauli Gharana. She considers him a mentor. He taught her the intricacies of khyal, thumri, bhajans and ghazals, developing her versatility as a vocalist.
"I learnt from my Nana Guruji (mother's teacher) Pt. Mahadev Deshpande ji, Pt. Jagdish Mohan ji and Pt. Madhup Mudgal ji at Gandharv Mahavidyalaya, New Delhi. Those seven years gave a very strong foundation to my musical journey as they all nurtured and guided me to move to Mumbai to learn from my eternal Guru Kishori Amonkar ji. I consider myself her 'Eklavya' and will feel so forever!", she tells me.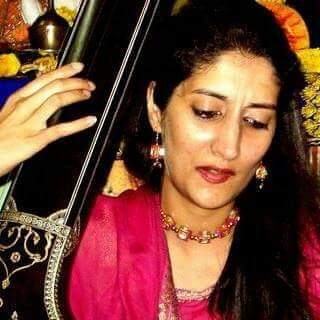 Priyaankaa has learnt from Gana Saraswati Kishori Amonkar of Jaipur Atrauli Gharana and her disciple Pt. Arun Dravid lately. She has also nurtured her art under the able guidance of Smt. Shalmalee Joshi of Jaipur Atrauli gharana.
Since 2005, Priyanka has been an empanelled artist by ICCR Delhi and a Scholarship Holder by Sahitya Kala Parishad in the field of Hindustani Classical Vocal Music. She submitted her PhD in Delhi University in 2016.
She recently performed on the first day of the two-day festival organised by BCCA and Bhavans Kala Kendra on January 18 at SPJIMR Auditorium, Andheri West, Mumbai. She was accompanied on Tabla by Saurabh Chakroborty and Sridhar Bhatt on harmonium.
"I represent Jaipur Atrauli Gharana and sang traditional bandish in Raga Yaman in both Vilambit Khyal 'Moman lagi' and Drut Khyal 'Sakhi Aeri Ali Piya Bina' khyal, then a Thumri ' 'Naina Milake Pachtai' in Raga Mishra Khamaj composed by my Guruji Late Ustad Aslam Hussain Khan Saheb followed by a popular bhajan 'Ghat Ghat Main Panchi Bolta' of my late Guru Ganasaraswati Kishori Amonkar ji and concluded with an audience-choice ghazal 'Mere Humnafaz Mere Humnawah', a popular piece by ghazal queen Begum Akhtar Saheba."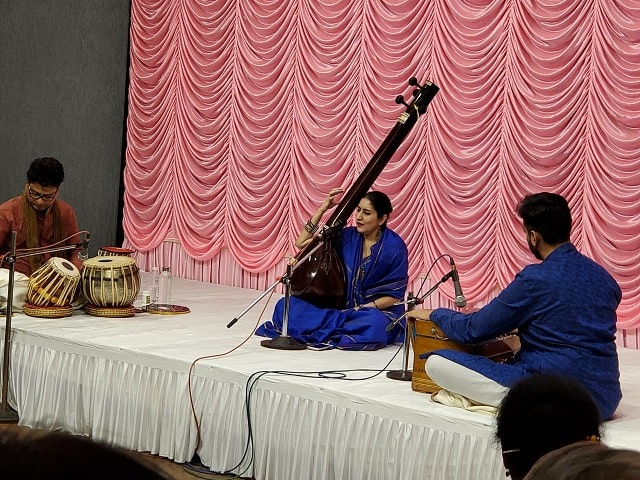 With success comes struggle. In classical music, the struggle is throughout unless your stars take you to the route of popularity charts.
"It is little challenging to make a career in classical music but with daily practice and sheer determination one can achieve the desired results."
"Unfortunately, in my case, my Guruji Ustad Aslam Hussain Khan Saheb, who taught me for almost six years, passed away an year ago. I have no support in the industry, no one to give me a platform yet I'm glad that slowly I'm craving my way up."
Priyaankaa is positive about her choice and career path, though.
"People, who like my renditions, are open to give me an opportunity to perform. I'm very thankful to all my organisers who are supporting me at Banyantree, BCCA and Patel foundation. They have supported me in my endeavour to propagate and perform classical music as a young musician."
If you are a musician/singer or know someone who deserves this space, write to me at stories@preetihoon.com