Bhagwan Mahavir Nirvana Mahotsav Committee, recently, organized a grand Shankhnaad ceremony in the auspicious presence of Rashtraguru Paramparacharya Shri 108 Parghasagar Ji Muniraj Sansagh at Vigyan Bhawan in New Delhi. The event 'Nirvana Mahamahotsav' was put together by the followers of Jain religion.
Many Union Ministers, MPs, MLAs as well as Spiritual Guru Sri Sri Ravi Shankar, Founder, Art of Living graced the event. They were present on the stage to seek the blessings of Muniraj Sansagh.
Expressing their views on the occasion, Chidanand Swami of Parmarth Niketan, Surendra Keerti Vidyanand Gurukal said, "Such a true Shravak who, having faith in God, Shastra and Guru, can take a pledge to dedicate himself not to any particular person but to religion."
The august gathering also witnessed Vijay Sampla, National President of the Scheduled Tribes Commission, speak his mind, "By spreading the principle of pure ethics and vegetarianism to the masses, we can take the life of every human being to the path of welfare."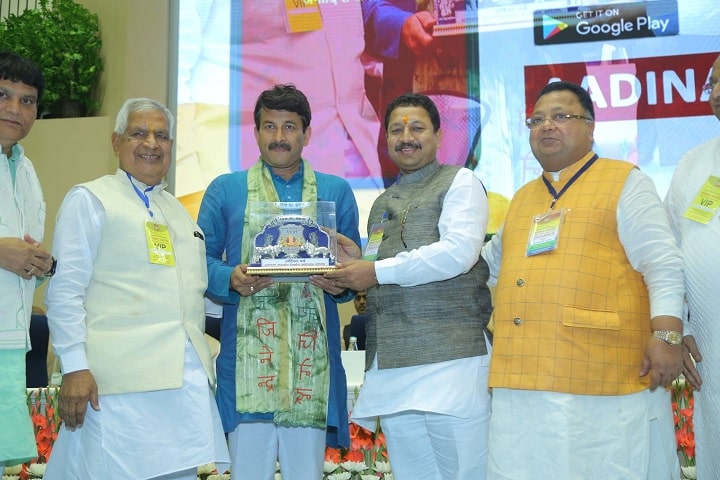 While NDMC Vice Chairman Satish Upadhyay exhorted the youth to follow the path shown by Lord Mahavir Swami and never leave true non-violence at any turn of life.
Union Minister Narendra Singh Tomar also marked his presence and said, "To develop every section of the society with lessons of truth and non-violence, we have to understand the life of Lord Mahavir Swami ji and follow the path shown by him. We can then reach our goal."
"If we take a pledge to follow the path shown by Lord Mahavir Swami, then we will never deviate from our path in life", BJP leader Satya Narayan Jatiya added.
Expressing his views on the occasion, Manoj Tiwari, former President of Delhi Pradesh BJP and Member of Parliament from East Delhi, said, "Lord Mahavir made an unprecedented contribution to the development of Indian religion, philosophy and culture and raised himself above the world along with the welfare of others."
"Truth, non-violence is our ultimate religion, it is the pride of Jainism to have a great hero like Mahavir Swami, we are happy that the ceremony organized today is a complete success with participation of devotees of all age groups from far areas of Delhi", he stated.