If you're a die-hard car lover, a true-blue machine enthusiast who loves to explore the roots and origins of cars and its history then here's something upcoming, an unmissable event for you to look forward to.
21 Gun Salute Heritage Cultural Trust is back with the 9th edition 21 Gun Salute International Vintage Car Rally and Concours d'Elegance. The event is supported by the Ministry of Tourism and its Incredible India campaign. The official announcement was made at the residence of Maharaja Manujendra Shah of Garhwal in New Delhi and Maharaja, who's himself a huge fan and custodian of vintage cars, was present at the occasion.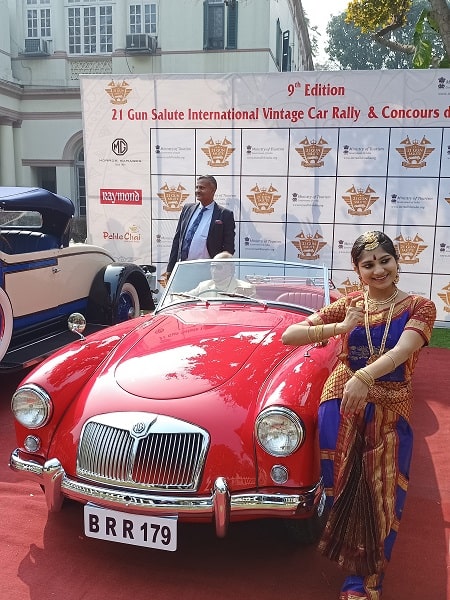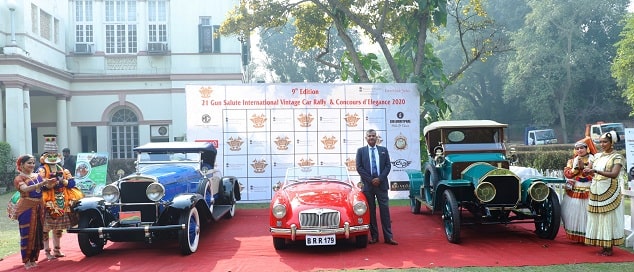 This cultural heritage event will showcase some of the finest and most incredible, and rare vintage cars in the world including 1938 Rolls-Royce 25/30, Maserati 3500GT Vignale Syder, 1939 Buick Roadmaster Convertible, 1938 Lancia Astura Series IV, 1930 BMW 3/15 DA2 'Kabriolet', 1938 Delahaye 135 M, 1936 Rolls Royce 25/30 Gurney Nutting Coupe, 1959 Jaguar XK 150and many more.
I met the Chairman and Managing Trustee, Madan Mohan and we had a very interesting conversation in which he tells me that maintenance of such cars is an art and his brother has done a three-year degree course in vintage cars restoration from the United States. No such course is available in India as of now.
Renowned motoring enthusiasts, along with their masterpieces, will travel together to unique destinations in India, stay at palaces of erstwhile Maharajas of India, dine with royal families at palaces and visit colossal forts of the Maharajas. This Incredible India Rally would be India's most exclusive as it is first of its kind heritage motoring rally that will cover palaces of Rajasthan & Gujarat.
"Indian Culture and Heritage Motoring are the two strong pillars of our Concours. Both aspects highlight that the 21 Gun Salute Concours Show is of special importance and attract both participants and visitors. For the past 8 years, the event has grown in all aspects to become a magnificent show that attracts tourists and motoring buffs from around the world," Mohan said during the official announcement of the Vintage Rally.
The Incredible India Rally will cover 17 cities, 4000kms in 23 days and will be an ode to the Global Heritage Motoring & Historic Indian Culture.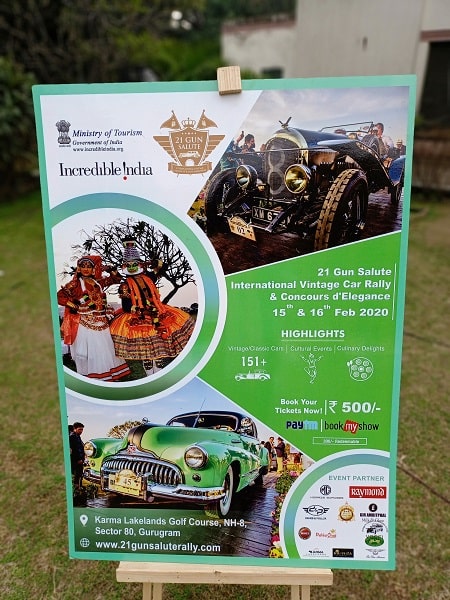 "The 4000 km long rally will entirely focus on promoting the Cultural Diversity and the Royal Heritage of the most vibrant and royal states of our country – Haryana, Uttar Pradesh, Gujarat & Rajasthan. This royal expedition would be a tremendous step in generating interest in global tourists to experience the grandeur of India. Along with international participation from 15 motoring enthusiasts from around the globe, the Incredible India Rally would be our biennial effort to promote India as a global motoring tourism destination on a global platform. The Incredible India Rally will bring forth an enormous tourist footprint to our country", he added.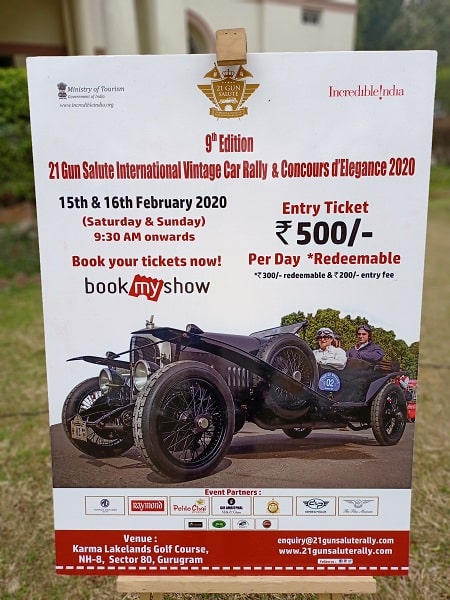 Presently, the event has attracted participants from various parts of the world including Germany, France, Belgium, USA, and from India including Delhi, Mumbai, Bangalore, Lucknow, Bangalore, Chennai, Jaipur & Ahmadabad. 21 Gun Salute Heritage Cultural Trust claims the upcoming edition as the best one yet. Rally will be flagged off from India Gate, New Delhi on February 15 while it is set to begin from Concours d'Elegance at Karma Lake Lands, Gurugram on February 16.