On the eve of our Independence Day, as I sat in my living room and watched Indian cricketer & icon Mithali Raj's biopic, I wondered if it was uncanny and ironic to have seen it amid on-going celebrations of our nation's 75th anniversary of achieving freedom.
India achieved its independence in 1947. Its women? The trajectory of social stigmas may have shown some respite, women indeed have come out and claimed their rightful say and glory, that which always belonged to them, but the primitive thought processes as deep as an ocean continue to haunt women who carry its endlessness in everyday life like they are mean to born and die with it.
Indian women cricket has been a part of that trajectory and it's, still, has a long graph to cover.
While India loves to celebrate its goddesses Sita, Durga, Parvati, Kali, Lakshmi and her forms, Indians always found their Gods in Kapil, Sunil, Sachin, Sourav, Rahul, Virat and many more. It's 2022 and one doesn't have to write the obvious – men have always been a default representation of cricket in India.
To shake that belief system was to move a mountain with a lady finger. Lights, Camera, Action! Enters Mithali Raj. Throws dialogues, dances around the tree, fights villains, hits sixes, wins World Cup and it's a happy ending… only if life was a movie.
But, Raj built a living so inspirational and iconic that the world was moved to make a movie on her life. Srijit Mukherjee's 'Shabaash Mithu' is a movie on Raj's life and Taapsee Pannu is the life of that movie.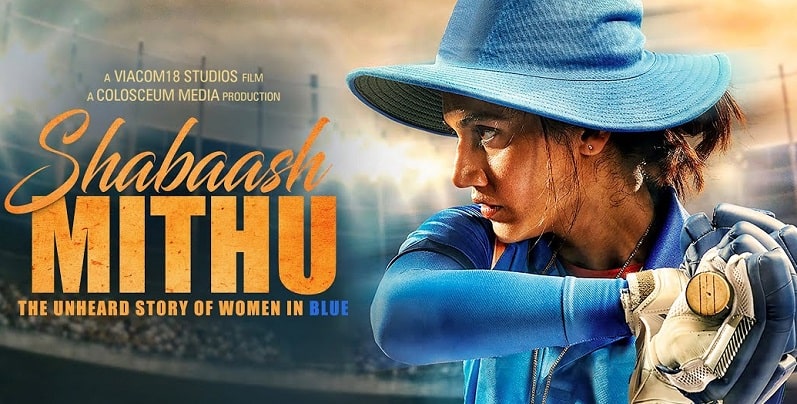 Raj picked up the bat when she did not have an Indian woman cricketer to idolize. We don't blame her as I'm reminded of my teens when I showed passion for the game in the era of the celebrated fab four and was heckled by colony aunties for playing with boys. Hell, I still played. So did, Mithali. Would this legend of the game have ever realized she was to become that one and first woman she, herself, or aspiring Indian women cricketers unknowingly sought to escape, find an answer in and idolize? May be.
Scriptwriters have carefully indulged the leading character in several moments that will and should break your heart and soul. You will cry seeing the young Mithali cry when she loses her childhood friend and Guru, when she dreams of 'Women in Blue' under the starry skies, when she voices basic demand of having jerseys with names, when she silently agrees to click a female fan of male cricketer, when she loses World Cup yet wins hearts, when young girls come running to her for autograph, only if you're not one of those who are judging the make without having made one. And, it's good to cry after watching movies like these. If the after-thoughts stay with you much later than you have left the theatre then the movie has done its job. While, the OTT has now added another version to it, for this one kept me seated on sofa and inspired me to write.
Taapsee Pannu, is the on-screen hero who has, like always, done an honest job in portraying the real-life struggles of our hero Mithali Raj. Pannu's honesty with her craft, while playing such intense, sensitive, independent women characters on-screen, shines through her eyes that reflect of her own character, pretty much who she is or must be in her life – unapologetic and soul-naked.
Shabaash Mithu might have not sent the box office records crashing but the movie and the makers are a hit to have set the record straight in celebrating life of a woman who has gone through struggles that are common to every woman in India, has faced bias, survived rotten mindsets, prevailed as a warrior in extreme circumstances, made a mark for the world to sit up and notice, walked on fire to become the changemaker and an institution for the future generation.
Mithali Raj, who gave away her blood and sweat in 19-year long career to create almost a century of on-field records in her name for a lifetime, is anyway not at the mercy of any commercial numbers that fight to find their fate every week.
Yes, the World Cup win will always be a 'Have Not' in Mithali's life and it should hurt us more than her. It is sad that we weren't left with happy tears unlike M.S Dhoni that showed the fine actor Sushant Singh Rajput lifting the World Cup for India as Mahendra Singh Dhoni. The names of our prolific captains 'Mahi' and 'Mithali' begin with the letter 'M' and end at 'I' but their destinies were written with a different ink. Not that we didn't want our 'Men in Blue' to raise the WC trophy but why didn't the moment embrace our 'Women in Blue' under Mithali's Raj? It will hurt.
And, it seems Taapsee Pannu has bravely taken it on her to become the face of all Mithalis in India who are raring to rise, it's not easy to do what she does flick after flick, manages to make audience see her shadow parallel to the character and does it so well to the level now you want to watch Taapsee and what's she up to next. For all the variety of empowered women she has portrayed on-screen, I have a feeling, there will be a biopic on Taapsee Pannu too, some day.
Leaving you with these soul-wrenching lines from the movie that didn't leave me…
"Hum dikh jaate.
Ghoorne ki bajaye zara gaur se dekhte ek baar…
Toh hum dikh jaate.
Dikh jaate woh raaste…
Un raaston par humare paon ke nishan dikh jaate…
Ghoorne ki bajaye zara gaur se dekhte ek baar…
Toh hum dikh jaate.
Dikh jaati woh mushkilein…
Mushkilein jinse tumhari koi jaan pehchan nahi…
Mil jaate…
Mil jaate tumhe bhi woh dard… dard jo tumne kabhi sahe hi nahi…
Mil jaate.
Ghoorne ki bajaye zara gaur se dekhte ek baar..
Toh hum dikh jaate…
Toh hum dikh jaate."
Disclaimer: I feel cinema and write for readers who feel. I am not a qualified entertainment journalist, hence, you wouldn't find technical critique in my pieces.