Todd Fryhover, President, Washington Apple Commission, comes to India often, especially Mumbai. The importance being given to the Indian market is largely due to the share it churns for its brand Washington Apples. This time around, the Indian trip for Fryhover meant serious business. He flew down to announce company's new brand ambassadors – Bollywood Actress Disha Patani and Chef Sanjeev Kapoor – in India to tackle the rise in competition and poaching of its market share.
"India is a very important market for us because sometimes it takes up to 20% of the red delicious that we harvest. There is a need and we want to be here. The reason for the timing to do more activities is because we are really seeing a change in the scenario. The additional duty is due to rise in competition in Indian market. We are seeing competitors coming and starting to take away our market share. Our forthcoming activity will hopefully cancel that and remind the consumers of Washington Apples", he told me during the event.
Fryhover also shared that the location of the country producing apples and exporting to India also plays a very crucial as well as strategic role in determining the demand and consumption.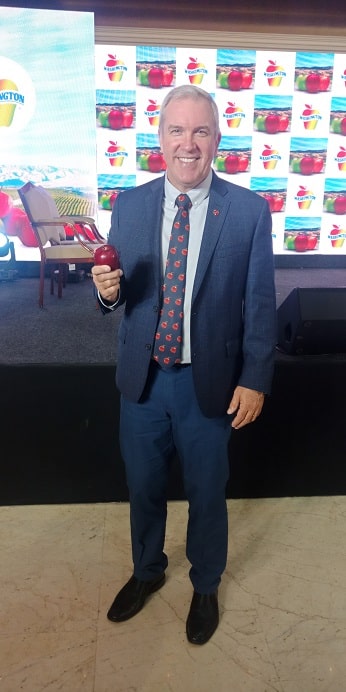 "If you go to any wholesale market, you will see apples from different origins such as Italy, France, Ukraine, Poland etc. This is the second year where I've seen the rise in the availability of the Turkish apples. Turkey has a competitive advantage in terms of geography as they're closer to Indian as compared to us. It takes 30-40 days for a refrigerated container to come here and it is more expensive. One of the reasons why we are giving this (brand endorsement) big push", he said.
But does Washington Apples has any edge over its competitors when it comes to its produce and taste?
"I wouldn't necessarily say that our apples are better. I think all apples are good. People need to eat more apples and they'd be healthier", Fryhover answered.
Since he visits India often, it was inevitable for me to ask him his personal likes about India and what is it that he loves the most about our country.
And, a part of his answer came as a big surprise.
"Easy! I tell this to everybody. Firstly, it's the people. Indians are wonderful, open and warm. If you go to a new place and may be you're not comfortable but meeting new people is terrific. Ask anybody on the street for directions and they're welcoming."
He continues, "I love Indian food! And, I love spicy food! For that matter, Indonesian food can blow off top of your head and I can have that too. Everything is spicy in India but it isn't too spicy. There's no question about not liking Indian food."
So, would he contemplate settling here?! "I have love for the place where I live now (US) and I always will. Just as you do! As after thoughts, India is nonetheless on the list", he quipped.
American and love for spicy food was always a mismatch in my mind before speaking to Todd. Guess, not anymore.