Five-time world boxing champion Mary Kom, who dominated her debut Commonwealth Games 2018 outing and picked up the top honour in 46-48kg bout, knows of a fact that there will be a day she would have to say goodbye to the active athlete in her and continue to live the passion of Boxing by giving it back to the society.
Earlier there were news of Mary calling it quits after Rio Olympics 2016 but seems the legendary boxer left all of it behind to emerge the Commonwealth Games 2018 Boxing champion.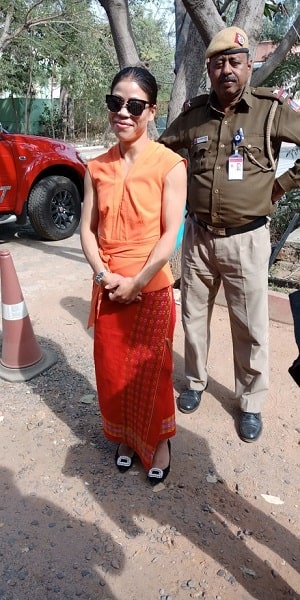 "The truth is that one day I will retire and if I am not able to do anything substantial for my nation then I don't think my life has any meaning. I want to give back to the country", she told me.
The iconic boxer is on the verge of launching her academy in her hometown Guwahati. The academy will train potential boxers from all over the country and will also have hostel facilities.
"Boxing is my priority. It is the reason why I have everything that I have today. I will try to give my time to the state and my academy which will soon be operational. There will be hostel facilities provided as well and I would want boxers from all over the nation to come and train in my academy", she said.
But the inauguration ceremony will have to wait for a bit as Kom is waiting for Prime Minister Narendra Modi's nod. She wants the leader's presence to make the moment for her even more special.
"The launch date is not finalized as yet as we are waiting for the Prime Minister to take out time from his busy schedule and bless us. It will be a great feeling to have him over!"
Kom is soft-spoken. She appears to be a simple person who doesn't look to have been influenced by international name and fame. It's a sign of someone who doesn't take success for granted and knows how crucial it is to stay closer to roots.
Looking elegant in a Manipuri dress, Mary Kom shared that she usually tries to opt for traditional attires. When asked if she likes to represent Manipur through her choice of dress, she laughed it off, "No no! I wear my own traditional dresses. I like to wear saris and suits. It is about how am feeling on a particular day and dress up accordingly."
(Feature pic credits: PTI)