"Ye aur kitni baar aise karenge…" (How many times are they going to perform before results?) asked my mother as we watched Dipa Karmakar create history in Indian sports.
"Pata nahi, main bhi pehli baar dekh rahi hoon." (Don't know, I am also watching it for the first time.)
🙂
Relatable?
We celebrated a feeling called Dipa Karmakar as the clock struck 12 am on our 70th Independence Day. Yes, she is the girl, born and brought up in Agartala, Tripura, who made the entire India sit up and understand a sport and 'Produnova' it least cared about. Even if that cost her 15 long years of sheer undying will power and determination.
But, did we miss an evident point in the entire Dipa Karmakar's historic appearance in Gymnastics at Rio Olympics 2016? She wore a leotard and nobody talked about it. The gymnastics suit had her entire legs uncovered but the nation's eyes were hooked onto how well she can uncover and show off her dreams at a world stage.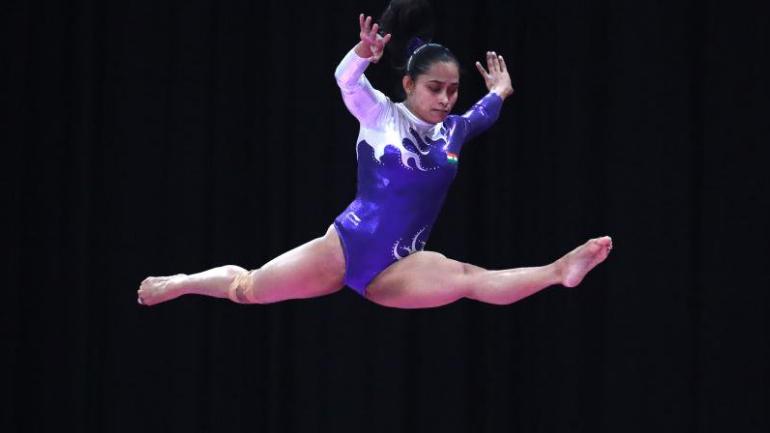 Yes ladies and gentleman, my exact point is this.
We still live in a nation where a girl has to perform or make her name at a level where she won't be asked why she wore short clothes.
Imagine. If parents of Sania Mirza, Jwala Gutta, Ashwini Ponappa, Saina Nehwal, Deepika Pallikal, Mary Kom, asked their girls to avoid taking up sports for such uniforms, where would these superbly talented women have ended up?
No airlines other than Air India has its Cabin Crew in Saris. Air India is India's official international carrier and Saris are the best representation of Indian women. Point taken. But imagine if parents of Indian girls working for other airlines asked them to either go in Sari or sit at home, would there have been a Neerja Bhanot?
The question I ask –
Why professional dress codes for women, by women are acceptable in India but routine life choices of clothing are not?
No, I am not trying to build a case on how every Indian girl must wear skimpy attires to touch pinnacles of their career. I am trying to take you deep into the thought processes that have led the rise of these exceptional achievers of India, the elite list of path-breakers that now boasts of Dipa Karmakar's name.
Dipa hails from an unknown corner of India, a small town, as we may call it. But what kind of a "small town" is it, really? Her father, a sportsperson himself, raised his daughter like nothing less than a champion. His parents believed in her. She was evidently allowed to wear "short clothes" and live her dream. Does a place where such open-minded people are making tiny yet significant differences even qualifies to be called a "small town"?
I hail from New Delhi, the Capital of India, a metropolitan and personally know families that look down upon females who take the liberty of assuming they are free to wear anything but actually they are not. One step out in the public and they are bound to get trapped in the mindsets of those people who for real have the freedom to typecast and slut-shame them. I know people living in Delhi's posh areas such as Vasant Kunj who are as lame as to recall my television appearance from Goa as the one in which I wore a short skirt. Milestones reduced to mere judgments in flash of a second.
And then there's this topic of 'marriage', of course. It's almost like people have favourited it in their mind logs for the ease of popping it out as and when it is often needed.
There's a very strong reason why Sania Mirza was irked by Rajdeep Sardesai's "settling" question. Do you think Dipa Karmakar's parents back in Tripura must be fielding questions like – "Oh, now that she has performed in Olympics when are you getting her married?" And if such questions still find a place in a questionnaire to Priyanka Chopra or Deepika Padukone, then God save countrymen! Journos always have a small scope to shift the blame on their profession but the fact remains that content on marriage and relationships is purely saleable because there's a demand for it in first place.
And if public's piercing words ain't enough, there are a species of men said to be carrying genes of egoism and jealousy over woman's success. While there are men like Bishweshwar Nandi defying the aforesaid tendencies of a man. Dipa Karmakar's coach toiled with her for 15 long years before she has come into limelight this Olympics season. Women sure do take pride in the saying, "Behind every successful man there's a woman." But I can with a conviction say there will be more women who would be happier if times change to a point that saying is accompanied by, "Behind every successful woman there's a man." Men like Nandi make us believe it's possible. And of course, Dipa's father himself, whose decision to let the girl child come into this world is a matter of pride for the entire nation today.
So dear fellow Indians, we sure got independence 70 years ago from the Britishers but now we want freedom for Indians from Indians.
And this list of our unsaid birthrights go out to all those who think girls have taken birth to get married, produce kids, be fully clad, sit with legs not wide open, speak softly, laugh mildly, study much to cook ultimately and do all that boys won't ever do or at least are not scanned for-
We want freedom from mindsets that don't let us be. Treat us humans first, then girls.
We want freedom to walk on roads and not fear being stalked or raped. It sucks to be roaming around being prepared for the worst.
We want freedom from being asked when we are getting married. It's not an Oscar to be won.
We want freedom from being asked when we are giving "good news". Let the personal decision be.
We want freedom from being understood to be leaving our home after marriage. The default rule should apply to men too or at least be sensible & fair to let both go.
We want freedom from expectation to change our surnames. Changing identity after so many years isn't cool at all and for what, duh.
We want freedom from "those" eyes if we are unusually successful. Hard work isn't a man's copyright.
We want freedom from seeing the clock at the bar in middle of our drinking and thinking it's "getting late" for safety reasons. Have Indian men ever done that?
We want freedom from being asked at an airport if we are travelling alone or with a husband. Are men asked why they making solo trips to Thailand?
We want freedom from a mindset where we are made to fit in professions like that of a  Teacher, Air Hostess or Dietitian. It will be good if you bring up options like Deans, Pilots or Restaurateurs.
And even better if it is that of a sportsperson.
If all else fails to make you understand what freedom means to us, just watch Dipa Karmakar one more time.
She's the new face of every girl's right to live free and be what she wants to be.
You are the win India needed, Dipa! You are an Indian girl's Medal of Freedom.