"I don't care about those tags!" Quite obviously for someone with over 27 years of experience in Marketing and many more years of leading a fulfilling life, it doesn't get limited to just being called a "marketing guru". Rajesh Mehta has come to a point in life where he only accepts projects that "excite" him. Clearly, Super Fight League and Super Boxing League are among those. Interestingly, Rajesh is not just in the leadership team at both the Leagues but also is an entrepreneur and runs Agora Marketing Advisory.
I caught up with the marketing maven #InTheLounge to know how does he justify both the roles, what makes him a relentless marketer and a "simple" human being as he gears up to deliver Super Boxing League, a first in India.
You started your career as an Engineer. How come you ended up being a marketer?
While I was in the profile of an engineer, something inside me called out loud that it is not what I am destined to do! I knew that marketing is the field I wanted to get in. It was so loud and clear. As luck would have it, I got good chances to work with iconic brands.
So, you trust your intuitions?
(Emphatically) Absolutely. I think my gut feeling is the biggest sign of wrong and right for me. It's very important. One should always go by it.
What happens to practicality then?
No, there are times when I like to follow the safe path. But at the same time, I don't shy away from backing those big ideas that are usually dumped.
You launched Super Fight League. Now you are preparing to introduce Super Boxing League, another first in India. How's it shaping up?
I think we are all set and supremely excited. We are hoping to replicate the success of SFL in our attempt to give a platform to the enormous boxing talent in India where they can make a global name. It is scheduled for July 07 to August 12. We will be streaming it on Facebook LIVE and anybody can watch it.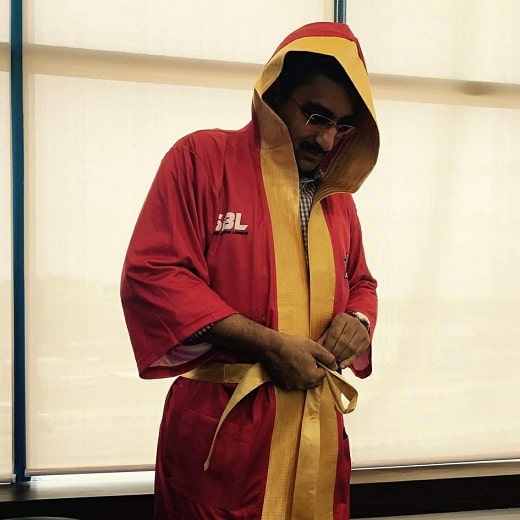 Why do you think the promoters of SFL – Bill Dosanjh and Amir Khan -were convinced about you spearheading the project?
(Smiles) That you should ask them! Things just clicked! One tends to get a feeling if someone looks a part of the bigger picture and there's a comforting factor when you have relevant experience. It's more like – let me bet on this horse! (laughs)
What's the most common way of hiring for the top job these days?
Look! Today, anything is possible in a corporate world. Lot of things happen over networking and in who-knows-who scenario.
27 years in marketing! That's a long time. Can you be called a "marketing guru" now?
(Laughs) I don't care about those tags! As long as I am happy doing what I am doing, it doesn't matter.
What do you miss when you look back?
(Pauses to think) It's been a hectic journey and every year I decide to take a proper vacation but (laughs)…  I think it's either fate or me, who loves work and gives more than 100 per cent. I miss taking a break!
So, you never thought of a sabbatical?
I did take one when I left Western Union four years back. I was off for four months then. I wanted to start my own venture. That's when I launched Agora – my own marketing strategy consultancy. Even then, I was so consumed by work that I had not taken a break.
What did you do in those four months?
I started reading a lot and watched TV shows. I consumed humongous amount of content and caught up with friends, something you tend to miss out on in a busy life.
How do you do justice to both the roles of heading your own marketing firm and being at the helm of two sports leagues?
I am with SFL and SBL as a full-time consultant. I pick up a project for Agora only when it excites me.
You have worked with traditional companies like Emami, Pidilite Industries whereas now you are dabbling with new-age concepts like SFL, SBL… How's the change for you?
Whether you work with a family-owned company or a multi-national, each type of business has its own pros and cons. Now, I have seen the best and worst of both the worlds. Sometimes, the decision-making is quite fast in a family-owned company. There have been occasions when such cos have been able to beat the bigger outfits that move at a snail's pace due to internal bureaucracy. I'm not saying processes are bad but those that stall progress are always bad. I try to streamline the process and make sure work doesn't stop because of the decision-making. You should be able to reciprocate to market changes pretty fast. Today, it's the survival of the fastest.
Is that the reason why you are the first one to launch SBL? News of several players wanting to launch a League of similar kind has been doing rounds…
I think it's about conviction of doing something and not doing just the sake of it. We truly believe in it and feel it is the right time to give a platform to the boxing talent. They are craving to get a chance to showcase their potential and I hope we are able to live up to their expectations.
Has there been an interaction where you have really felt that SBL is going to make a difference to the boxers' life?
Yes, it's a day in and day out discussion. We talk to boxers and understand what they really want in life, what are their aspirations and frustrations. When you offer this kind of a solution to them, you can see a smile on their faces and spark in their eyes. It shows that it is the opportunity they wanted all their lives. It then feels you're on the right track.
You are pretty active on Twitter, in fact you helped me recall our first conversation was there. What do you think about the medium? How has social media changed your life?
It's about how you use it. At one level, it is people talking to their own selves (laughs). If I enjoy something, I post it on Twitter and that's me talking to myself, additionally, the world at large gets to know about it. Social media is a powerful tool. I am someone who loves solitude, peace and it has allowed me to express more.
You mean, you find solitude on Twitter?
(Both share a loud laughter) I mean, yes, while travelling, in a lounge or you're at a far off place and have access to Twitter, you tend to post a picture or two. You're doing your own thing which also becomes a communication at large.
Has your journey as a marketer changed you as a person?
Yes, I think so. I have travelled far and wide because of marketing. I believe that whatever product or service is being marketed, one needs to understand what the costumer/consumer wants. For that, you got to talk and meet them. Consumer behaves differently from geography to geography as there's no homogeneous mix. I have been to remote villages in India and at the same time, travelled extensively across the world. It has helped me understand cultures.
Okay, and if you were not a marketer, would you still have travelled this extensively?
I think so. I love travelling. I like going to different places. I think I am vagabond at heart, actually. I just like going out and studying people. I won't talk to them too much but observe their behaviour. It's my thing. I like to see how a particular person behaves in a certain situation.
Are you a tough boss?
I think I like to portray that.
But you are not…
I think I am not. My team and I had coined a term – 'Reverse Delegation'. I always end up doing my team's work! (Laughs)
What is that one quality you have imbibed from your bosses?
Importance of time and detailing. I'm very punctual and end up reaching early (on time) for events. I value time and don't like to make people wait.
You've had HR Departments reporting into you. Do you think it is fair to ask a candidate – "Where will you be xyz years from now?"?
I don' think so. I never ask that question to anyone because it is an unfair question in a scenario where things are changing so rapidly and drastically. I don't even know what's going to happen 5 minutes from now! Such questions are not to be asked.
What is that one thing that hasn't changed in you over the years?
I don't take myself seriously and this attitude has remained constant.
But do you want people to take you seriously?
Sometimes, you do feel that people should take you seriously and not mess around with you. But yes, I don't give importance to myself. I firmly believe there's so much more to learn.
Are you fond of meetings?
Most of my meetings are very short. I like it that way. I mean, I have been a part of so many boring, endless meetings over the years.
Have you ever slept in a meeting?
Oh! Always. (Laughs) Sometimes, when you're travelling from one time zone to another, the sleep hits and you can't do much about it.
Your favourite places to eat?
I am not a foodie at all! I am pretty happy with basic stuff. Homemade food is good. I like South Indian cuisine. I am not someone who would go and check out new places in town.
Does that in anyway mean you're not excited about life?
(Laughs) Good question. If food is life then yes, I'm pretty dull and boring that way! (Smiles)
Quote you swear by?
The world is my playground, round or flat, doesn't matter!