"I am sorry, I got a little late because of unexpected traffic…", I said worriedly. "It's okay, just that I have to leave for another meeting…", pat came the reply by the man who appeared to have accumulated enough patience over the years to let go of trivial circumstantial events, a testimony to building a company with a turnover of Rs 800 crores from the zilch.
I was meeting Mr. Mahesh Gupta, Chairman & Managing Director, Kent RO Systems, for the first time at company's headquarters in Noida, Uttar Pradesh.
Mr. Gupta launched a startup at a time it wasn't cool enough to do so. In fact, as a first generation entrepreneur in 1998, he almost threw "coolness" quotient out of the window for those who seek safe havens. He has been a man on a mission ever since. Today, almost 20 years later, he's at the helm of a multi-billion dollar outfit. It was almost inevitable for me to not know his struggles and what makes him the powerhouse of determination and vision alike. And, an articulate #InTheLounge session as this one left me wondering about the number of questions he must have faced in interviews like these or may be, in life.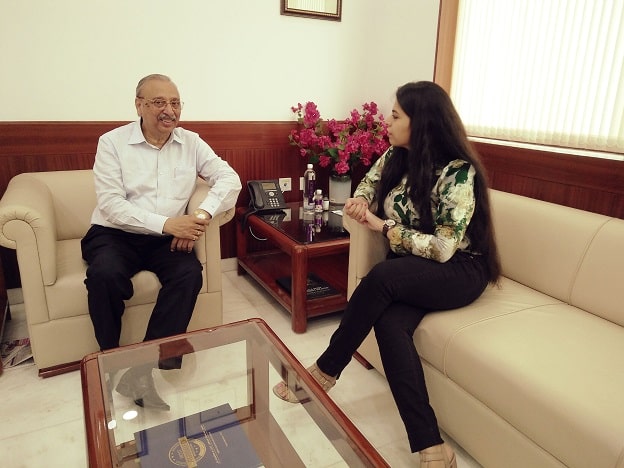 You are a first generation entrepreneur. Didn't you have apprehensions while leaving the government job at Indian Oil Corporation?
No. My family was concerned. They were too much worried on my decision to leave a well-established job at a time I was doing well. They never wanted me to quit.
Then why did you quit? Weren't you scared?
(Answers before question ends) Why? Why should I feel fearful? Should I have been scared of not getting another job? I am not afraid of anything because I know I can deliver. Who is taking care of you in this world? The almighty isn't it? Then why worry. Just leave it to HIM.
Who was your biggest supporter back then when you were on the verge of turning an entrepreneur?
My wife. She realized that I have certain ambitions in my life and she allowed me to fulfil them. My parents had fears and those were genuine at their level. They wanted my stability.
I'm sure. You must have had similar feelings in case of your children…
Of course. See, when you are young there's more energy. You feel you can take a walk in the space. As you grow old, you are more bound by fears since you've seen life and tend to be calculative about the damage. When you are young, you have nothing to lose!
Kent RO is a product of need & passion. Do you think you wouldn't have done it if you didn't face a situation to give clean water to your own family?
Absolutely! Supposedly, my water would have been clean and there was no need to purify water, I don't think I would have made a water purifier. Necessity is the mother of invention to me. Understand that I am not a 'water man' to begin with. I am an 'oil man'. I entered into water industry by accident. I first made one for myself and then later decided to take it to people at large.
As you said you wouldn't have entered water industry had there not been your need. In such a case, what business would you have done?
(Laughs) I don't know. I don't know… May be I would have played Bridge. (Laughs)
I know you don't find time for it now. Do you miss playing Bridge?
Obviously. There are times when you are passionate about something but your priorities overrule. There's a cause to it & with acceptance you say, "It's okay things can wait."
What is the toughest part of being an entrepreneur?
It's a lonely journey. If you're in a job, you have bosses and colleagues to guide you. An entrepreneur has to take the responsibility all on his own, have a vision and walk the unknown path. One may have mentors but they aren't going to get affected by your decisions. You are all alone.
So when you were alone, didn't you feel like quitting?
Yes, many times. There were a lot of struggles. When things don't move, you start to question your decision. I came into water purifying business in 1998 and things didn't work out for initial five years. We were fighting against the brand synonymous to water – Aquaguard. We were selling at Rs. 20,000 and were hardly able to clock sales. I contemplated switching back to Petroleum. But I continued with my journey because I knew I was doing well for myself and for the people in general. I knew that one day I will succeed.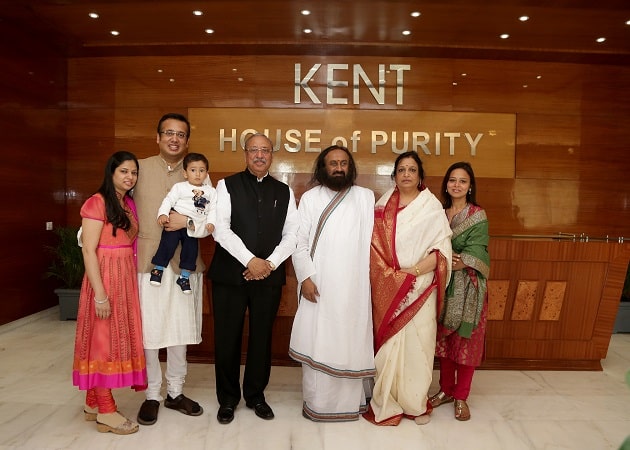 At any point of time, did you feel incompetent as you didn't have any relevant experience?
I felt I had limited resources at my command. Till today, I have not been able to put up a face to hire the best talent in the country. I am an IT product myself and come from the best & talented community. I cannot even hire my colleagues. It's not that my company has not gained reputation but those people have different type of choices. And since I don't have the best resources, I feel constraint that I cannot put my best foot forward.
So, you believe in people…
(With a conviction) What else is there in this world? (With a hint of laughter in his tone) Success is not because of money. Success is because of the people. If you have the best talent then you are not bound to fail.
How important is innovation?
It's the key to success in today's world. We are not living in the world of information anymore. Earlier, if you had exclusive knowledge of any technology, you could keep it a safe and your generations could thrive on it. Then, Capital took centrestage. It was impossible for anybody to do business without sufficient capital. But today, it is neither about information nor capital. It is all about innovation i.e. how can you offer better.
Your products are relatively priced higher than other products and yet you command near about 40% of the market share. How?
I think money is not something that drives businesses. If you are at the bottom of the pyramid, it's the price which will drive the business. Once you are at the top of the pyramid, like us, then the driving force is the offering and quality.
What has 'lack of funds' or simply put, 'need of money,' taught you in life?
It is very precious. Keep it safe. (Laughs) Don't distance yourself from it. Be a miser.
You are not an extravagant?
Not at all. I don't' mind spending money but it should not be a wasteful expenditure.
You're at the helm of an 8-billion-dollar turnover company. Do you get a good night sleep?
(Smiles) Absolutely. Nobody can wake me up before eight hours (laughs). We have systems in place and I operate at a macro level. When you do dealings in the right fashion, you don't have to worry about the sleep!
How is it to be supported by your children at work?
Well, yes, they both are actively involved in the business right now. It's good to have family as a part of the organization.
Was there any pressure on them from your side to enter family business?
No, it was a conscious decision by them. They both are professionals and highly educated. I only made the suggestion and it luckily fell into their line of thinking.
What are your expansion plans?
We have created a category in the minds of the consumers. They understand that we are into kitchen and purity space. The brand has now evolved and being built as the 'House of Purity'. We want to work in the space of purity and help people remain healthy. By space of purity I mean categories such as water, air, food, living space and at a later stage, we intend to enter the spirituality space as well.
What if Baba Ramdev's Patanjali decides to enter water purifying segment?
(Promptly) I have nothing against him! Why should I be worried? I welcome him. Anything that's in the favour of humanity and society should be welcomed. If both the players upscale the market then it's fine, we both will have a role to play.
When I entered your office, I saw a number of pictures of you receiving awards. Are awards important?
Not for me but for my customers and employees. Awards are a form of satisfaction but not for me. It is recognition of your work and that's it. The awards are not given to Mahesh Gupta. They are given to Kent RO. And Kent RO is because of people working for it.
Sometimes, industry awards are considered rigged. What's your take on it?
I don't think that's right! If a person is paying to get an award, then it is a bad thing. If somebody is taking money to give awards, it is again a bad thing.
Hema Malini has been the brand ambassador for a decade now. Why has she never been replaced?
I should counter question you, "Why should I replace her?" Just because it's been 10 years I should replace her? She fits into my yardstick and the brand has grown with her as the brand ambassador. She's active in all spheres of life – Acting, Dance, and Politics – there's no reason for us to replace her.
You've been in the business for close to two decades now. Do you think you've been able to impact lives in some way?
I think I have made a difference to innumerous people. It reflects in my dealings with them on regular basis. Whether in terms of teaching or touching their family lives, I know I am inspiring a lot of people and I'm truly honoured by it.
Your advice to the budding and new-age entrepreneurs?
The times are very positive and one must take a step forward. Come and become an employer rather than being an employee. It's high time you start believing in this thought. I have a strong belief that the world is changing. It has changed in the past and it will change in the future. But right now, the world is changing faster and in the coming times, the speed of change will only multiply. So, you have a role to play in this world! Come and play. Don't take your business seriously. Take it like a game. There are wins and losses. It's okay! Just enjoy.
Interview originally published in The CEO Magazine