While having a conversation with someone who, as a professional, has spent a good amount of years with Shahnaz Husain, I came to know of her as a hands-on entrepreneur. She is someone, who after four decades of brand's existence, still takes personal efforts to make sure it is on track and thriving. She's a diva who was born to challenge the norms of a conservative society, stand like a wall to protect her dreams and turn them into a historic reality.
Today, Shahnaz Husain, Chairperson & Managing Director – Shahnaz Husain Group of Companies, may be an Indian household name but she has made her presence felt globally. From White House to Harvard University, she has represented India and values of Ayurveda through her undeniable personality. It isn't easy to put a limit to a conversation with someone of her stature but here's an attempt to know the essence of Ms Husain's life, work and what makes her an unmatched woman entrepreneur. Excerpts:
You got married at a tender age of 15 and became a mother when you were jut 16. What was your life like then?
At that time, life seemed perfect. My husband, who was the Head of Foreign Trade in STC, got posted to Tehran. I was married and a mother. After some time, the drudgery of endless routine set in. I wanted to be somebody who makes a difference. This feeling inspired me to be an entrepreneur and translate my ideas into reality.
Since you belong to Muslim religion, how, as a woman belonging to a conservative space, you chose to walk on the path that led to your dreams?
I think it was my independence of spirit that made me become an entrepreneur. It made me determined to emerge from a sheltered and secure life and venture into a totally different world of entrepreneurship. I loved beauty and making others beautiful. So, I decided to study beauty and worked my way to the leading beauty training schools of the West, by writing articles for the English magazine of the Iran Tribune.
Whom did you find support in then?
My father inspired me to follow my dreams. When I started my business, he taught me to have faith in my own abilities. He said that there is no such thing as destiny, you can make your own destiny; you can be what you want yourself to be. When I opened my first herbal clinic in my own home, it was my father from whom I borrowed INR 35,000. It is my father's faith behind my success. He was a constant source of support. Also my husband's encouragement, support and understanding made me who I am today.
And today, you are a global name…
Yes, much more than I ever dreamed has come true. I believed that India has so much to offer to the rest of the world. My relentless determination and efforts were to take Ayurveda to every corner of the globe.
As far as one can recall, you've been one of the first ambassadors of Ayurveda globally. What triggered your passion for Ayurveda and not any other industry?
While training in London, I came across instances of damage caused by chemical treatments. In a way, this changed the course of my life and career. I wanted to find a natural alternative that was safe and without risks. I inherited faith in natural healing from my family and my study of Ayurveda strengthened that faith. I was convinced that it could offer the ideal answers to modern cosmetic-care. I adopted the concept of "herbal care and cure" and rejected the existing salon treatments to devise my own. I also began to formulate my own products using plant ingredients and natural substances, based on the Ayurveda system.
You've been an epitome of women entrepreneurship in India since the time women weren't empowered enough. How does it feel?
When I started my career, women were just stepping out of their homes into the career world. That is why I also took up the cause of woman empowerment, by encouraging ordinary housewives to open salons in their own homes. I trained them and gave them the Shahnaz Herbal franchise. Today, women have entered every field. However, we still have a long way to go. We do have the new-age woman, who has made a mark in every field but the question of surmounting barriers to seek equality still remains. I have never believed in destiny. I believe you can make your own destiny!
What makes Patanjali popular today for what you have believed in for decades now?
The fact remains that I pioneered herbal beauty care more than four decades ago. Since then, there have been plenty of players. It depends on the segment for which products are manufactured. India is the second largest consumer market in the world and there is room for many segments and many players.
You are now a case study at Harvard…
I was invited to speak at Harvard Business School on how I established an international brand without commercial advertising. I subsequently, became a Case Study. Now, I am a Subject for "Emerging Markets" as part of the Business History elective course for management students.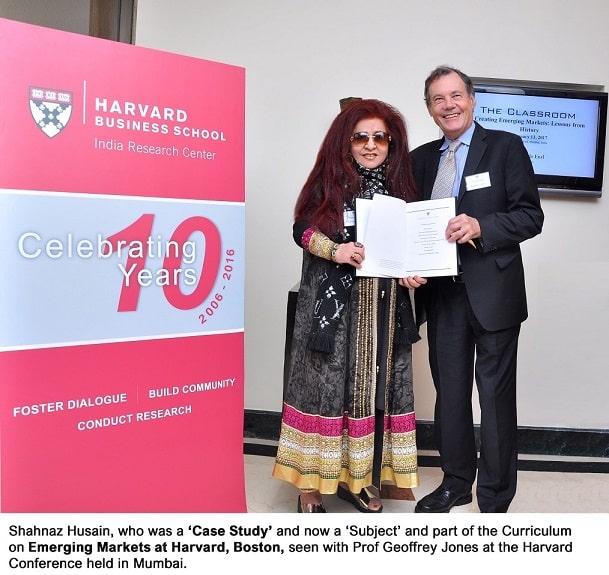 You also represented India at World Summit of Entrepreneurs during Barack Obama's regime. What was the moment like when you met Mr. Obama? What are your thoughts on President Donald Trump?
I achieved the rare honour of being invited by the U.S. President Barack Obama twice. First, I was invited to represent India at President Obama's "Presidential Summit for Entrepreneurs." It was a great honour for me, and recognition of my relentless efforts to promote Ayurveda internationally. The summit was not only important in terms of establishing ties with business leaders, but was also significant for woman empowerment. At the summit, President Obama said, "If you empower a woman, you empower the world."  I am optimistic that India will establish a relationship of understanding with President Trump. It is still early. I feel that the differences, especially in bilateral trade, will be ironed out.
You're a philanthropist. What's the power of giving according to you?
I wanted to make a positive contribution towards empowering the less privileged by supporting vocational beauty training for the physically challenged and the under-privileged, so that they have the opportunity to be financially independent and self-reliant. We have contributed to Government projects for skill development by training and certifying 40,000 under-privileged women in beauty and wellness. We also distributed Tool Kits to them for sustaining their home-based businesses. I believe that I should use the power of giving so that I can give back what I have received in plenty.
What are the future plans of Shahnaz Husain, the brand?
We are expanding our footprints across the globe. We will be taking Ayurveda and Brand India to more countries within the next year. We plan to further expand our presence in major countries like U.K., USA, Canada, Kuwait, Bahrain, Oman, Australia, Singapore, Malaysia, South East Asia, New Zealand and other CIS countries including Russia, Belarus and Latvia. Our future plans include concentrated international branding, strengthening and widening our global chain of franchise ventures and appointing distributors in unrepresented new markets. We have introduced an entire new repertoire of salon and spa treatments, using traditional and exotic ingredients.
What is your beauty routine?
I am a staunch believer in "internal health for external beauty." Internal good health is very important for external beauty. I have a demanding career, with hectic schedules but I make it a point to set aside some time for daily exercise. I have found Yoga to be an excellent way of relieving stress and strain. I have also faithfully followed a daily routine of cleansing, toning, moisturizing and nourishing. I apply a special mask every day which is mixed and kept in the refrigerator. I never miss this routine. It consists of a herbal powder and is mixed with a seaweed lotion, curd, honey and egg white. I do not get time to visit our salon but get facials, manicure and pedicure done at home. In fact, after a hectic day, there is nothing like a pedicure and foot massage.
What are the essentials in your bag?
My perfume, credit cards, diary and a pen.
What do you have to tell the women of today who are scared to live their dreams?
It is important to have a dream, because that is the starting point.  It is even more important to believe in that dream. There must be a kind of burning desire to create something, or to improve and establish an idea or innovation. You may start small, but think "big." Believe in yourself and your own abilities. Keep learning. Have the courage to say "I don't know this, but I can learn it." The sky is the limit, but one should have relentless determination to excel and the ability for sheer hard work. Never give up. If you never give up, you cannot fail.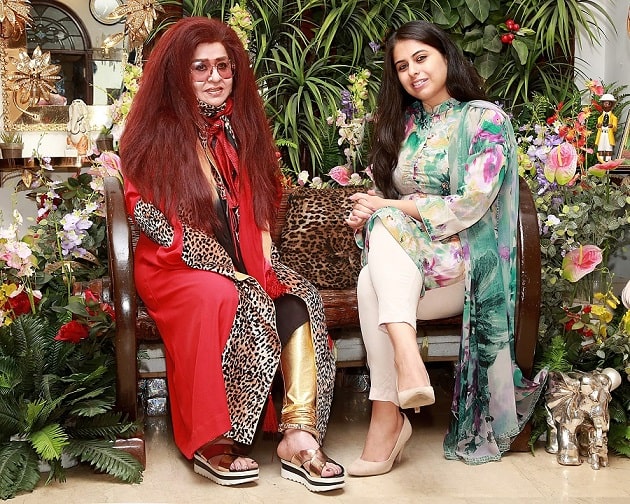 Interview originally published in The CEO Magazine.